Presenting the New Way to do Business ... Virtue in Pricing!
Kenosha Nissan Cares About The Community
& Our Prices Promise The Same!


We Want To Save You Hours of Negotiating!
Our competitive price in the V.I.P. program is validated and confirmed on each vehicle in the dealership, both new and used. Using our internal software, and with the help from 'big data', we can give you the absolute best market price on any vehicle you are interested in --and by using that same software to crawl thousands of websites each day we are able to fulfill our V.I.P. pricing promise.
Honor, Integrity, Truth.
These are the ways that Virtue is defined. At Kenosha Nissan, we live, breathe, and uphold these values. It is not enough just to provide high-quality vehicles to a community that we care about; moreover, we need to bring both New Nissan vehicles and Certified Pre-Owned Nissan vehicles to the people we care about with the promise that they will be treated with the utmost respect and straightforward honesty that everyone deserves.
With our V.I.P. program, we are keeping the Virtue In Pricing. The price you are quoted, the price you see, the price you discuss - that is the price you will be presented with when you visit our dealership. It is our promise to you that our price will be the most competitive possible without the need for negotiation.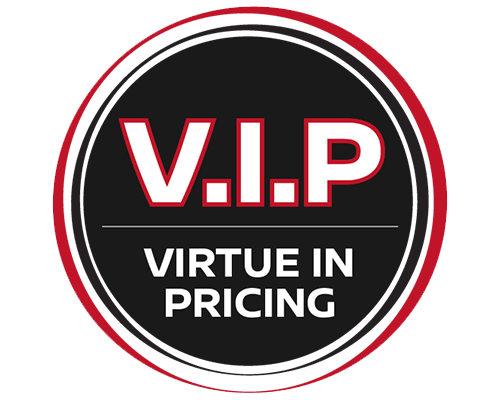 Please call the dealership, set an appointment, and see for yourself! We care about this community, and our prices will prove it!
Hours
Monday

9:00AM-8:00PM

Tuesday

9:00AM-8:00PM

Wednesday

9:00AM-8:00PM

Thursday

9:00AM-8:00PM

Friday

9:00AM-8:00PM

Saturday

9:00AM-6:00PM

Sunday

Closed
See All Department Hours
Dealership Hours
Monday

9:00AM-8:00PM

Tuesday

9:00AM-8:00PM

Wednesday

9:00AM-8:00PM

Thursday

9:00AM-8:00PM

Friday

9:00AM-8:00PM

Saturday

9:00AM-6:00PM

Sunday

Closed
Parts Dept. Hours
Monday

7:00AM-7:00PM

Tuesday

7:00AM-7:00PM

Wednesday

7:00AM-7:00PM

Thursday

7:00AM-7:00PM

Friday

7:00AM-7:00PM

Saturday

8:00AM-3:00PM

Sunday

Closed
Service Dept. Hours
Monday

7:00AM-7:00PM

Tuesday

7:00AM-7:00PM

Wednesday

7:00AM-7:00PM

Thursday

7:00AM-7:00PM

Friday

7:00AM-7:00PM

Saturday

8:00AM-3:00PM

Sunday

Closed